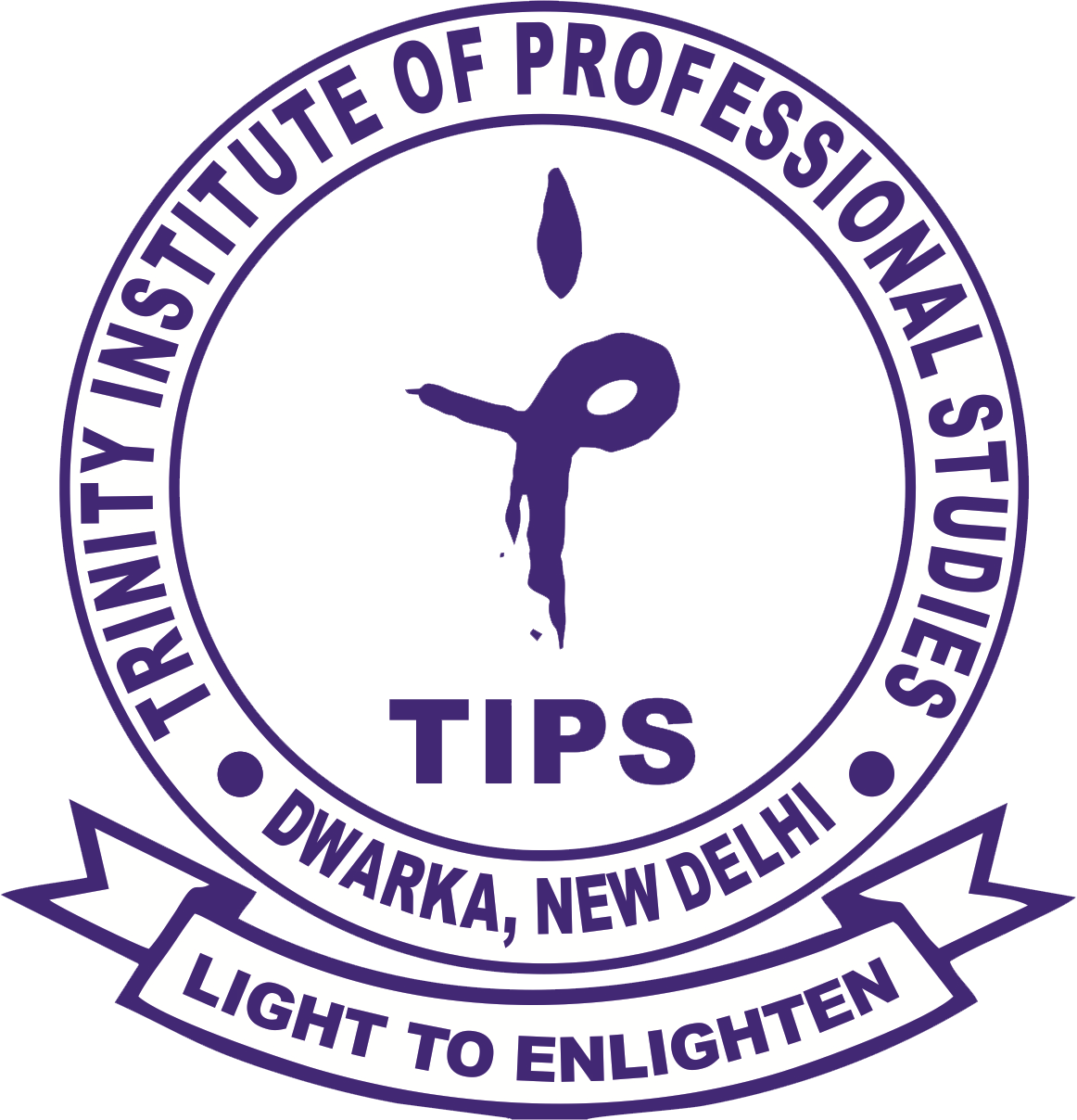 TRINITY INSTITUTE OF PROFESSIONAL STUDIES, (TIPS)
(Affiliated to Guru Gobind Singh Indraprastha University, Delhi  & Approved by Bar Council of India,New Delhi)
Grade Ranked Institute by SFRC, Govt. of Delhi.
Recognized under section 29(F) of the UGC Act, 1956
Ranked "A" Institute of GGSIPU,Delhi
NAAC Accredited 'B++' Grade Institute.
Awarded as Best Professional Degree College in Delhi & NCR in 2018
ABOUT THE INSTITUTE
Trinity Institute of Professional Studies, (TIPS), Dwarka is a premier educational institute located at a stone's throw distance from Sector-10 Metro Station, Dwarka (Opposite Pillar No. 1160 & Near Dwarka District Court). Trinity Institute of Professional Studies, (TIPS), Dwarka is established in 2007 under the aegis of the Kamal Educational and Welfare Society (KEWS), with the objective of providing highly skilled professionals to Indian industry and abroad. More than thirty years of rich experience of KEWS in diverse courses and level is driving and guiding force for TIPS Dwarka in pursuit of nurturing intellectual capital by adopting best practices to provide quality education. It has intake of nearly 1600 students in the disciplines of BBA(G), BCA, BA(JMC), B.Com ((Hons.) in two shifts and BA.LLB in morning shift.
COURSES & INTAKE
| | | | |
| --- | --- | --- | --- |
| S.No | COURSE | I SHIFT | II SHIFT |
| 1 | BBA(G) | 60 | 60 |
| 2 | BCA | 60 | 60 |
| 3 | B.COM(H) | 100 | 100 |
| 4 | B.A.(JMC) | 60 | 60 |
| 5 | B.A.L.L.B | 60 | -NIL- |
ADMISSION PROCESS
Admission to these courses is made strictly on the basis of Common Entrance Test (CET), conducted by the GGSIPU University. For more details, visit- http://www.tips.edu.in/admission-2
ACHIEVEMENTS
TIPS is proud to have produced 100% result in all academic courses. Students of TIPS have also won many accolades in various extra-curricular events.
OUR OBJECTIVE & VISION
Law, according to us, is not an activity of the State, but part of our life. There is no activity of human life with which law is not concerned. Law is the foundation of the universe and everything is centered in law. This belief is expressed in our motto "DHARMA SARV PRATISHTHAM" (Everything is centered in Law).Guided by this philosophy, Trinity School of Law and Legal Studies has nurtured its own educational culture.
The basic objective of our institute is to evolve and impart comprehensive and interdisciplinary legal education that is pure socially relevant. Through this legal education, we want to promote legal and ethical values and foster the role of law and the objectives enshrined in the Constitution of India. Our sincere endeavor to make legal education justice education, as a powerful instrument of social, political and economic change.
HIGHLIGHTS OF THE COURSE& CAMPUS
Graded 'B++' by NAAC (National Assessment and Accreditation Council) and ranked 'A+'Grade Institute by SFRC (State Fee Regulating Authority) Govt. of Delhi.Recently TIPS has been awarded as Best Professional Degree College in Delhi & NCR.
A faculty comprising of highly qualified, competent & committed people and using innovative teaching methodology.
Well –equipped and spacious Lecture theatres, Tutorial rooms and Conference room. Students are exposed to interactive session, well graded tutorial assignments, well thought -out home assignments.
Well-equipped and spacious Moot Court Room fitted with modern audio-visual aids, to hold mock trail and other germane exercise & activities for inculcating practical skill & acumen in the students. It also enables the students to develop the art of advocacy.  
Well-equipped and spacious Computer Lab with Wi-Fi facility.
Regular different kind of visits like Court visit, Parliament visit, Jail visit, LokAdalat visit,Various Appellate Tribunals visit, National Museum visit, NGT visit,   to let the students get a knowledge and feel of Court environment.
At the end of every year, students need to go through summer internship training and prepare a brief report.
Experimental based learning is promoted by the institute through extra curriculum activities like Conferences, Seminars, Moot Court Competition, Criminal/Civil Trial Advocacy Competition, Quiz etc. Youth Parliament, MUN (Model United Nations), Debates on current legal and social issues, Mock Interviews, Group Discussion, Legal Literacy Campaigns, Street Plays, Free Legal Aid Clinic & Camp, Campaigns, and Summer Internship etc.
Students are given an opportunity to write and present their research papers and innovative ideas in National Conference organized by the institute every year.
Educational Tours (National & International) and picnics are organized by the institute for the overall development of students.  
Knowledge enriched programs and guest lectures by professionals & experts from law field are organized to impart practical knowledge to the students.
Active training and placement cell to groom students for internship & placements with renowned Lawyers, Law Firms, Institutions,industries, organizations, NGOs and various Appellate Tribunals.
To prepare students to face campus interviews by arranging Training, Personalinterviews, Group discussions through professional trainers.
The School of Law is running a Free Legal aid Clinic and Consumer Protection Cell to safeguard and promote the interest of the poor and needy. The clinic is actively engaged in Legal Aid Camp and advice programmes to realize the ideas enshrined in our constitution.     
Well-equipped and automated rich Library upto date Books, various National & International Journals, Reporters and various periodicals. Access to online AIR, web Journal and DELNET & MANUPATRA.
Extra classes for weaker students and provide training& classes for various competitive exams like Judiciary, Govt. Counseletc. 
PDF & FDP Programs and PPT Presentations on regular basis.
Well-equipped Recreation Room and Separate Common Rooms for Boys and Girls.
Hands on Experience and Practical knowledge offered to students, which they can apply in their job.
Institute is imbibed with modern infrastructure.
Two OTIS high speed Escalators/Lifts.
Facilities for Physically challenged students: Ramp, specially designed washrooms.
Wi-Fi Campus.
Centrally all-weather air-conditioned building, fully air-conditioned campus. 
200 KVA Generator for 100% Power back up.
100KVA Online UPS for computer lab, post production lab, library.
RO system on each floor for pure drinking water, RO Plant and rooftop.
Tata-Sky-DTH connection in the Edit suite of 5th floor and in the Ground Floor.
Indoor sport facilities are available; Annual Sports Meet for the students of TIPS is organized.
For the safety & security purpose of the students, the Institute is under CCTV surveillance.
Cafeteria inside the Campus for students with variety of Indian and Chinese hygienic cuisines.
Open area in the basement for students to prepare for Inter and Intra extra-curricular activities, and cultural programmes.
Medical Room with First Aid Facility and collaboration with Venkateshwara Super Specialty Hospital, Dwarka.
 Intercollegiate Events.
Excellent opportunities for further studies in the best institute in India and abroad.
Educational Loan facilities are made available from Nationalized Banks (Terms & Conditions applicable).
TRINITY INSTITUTE OF PROFESSIONAL STUDIES
Sector-9, Dwarka Institutional Area (Near Sec-10 Metro Station &Dwarka Court), Dwarka, New Delhi- 110075
Tel: 011-45636921/22/23/24/25
Website: www.tips.edu.in
Email Id: tips@tips.edu.in